Janet Laurence (AU)
Tears of Dust
1 March 2024 - 26 May 2024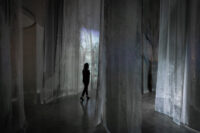 Image: Janet Laurence, MCA THEATRE OF Trees. Dye sublimation Photographs printed Silk veils, video. Photo by Jackie Manning.
Intimate glimpses into the fragility and power of our ecosystem.
When
1 March 2024 - 26 May 2024
Venue
860 Ferntree Gully Rd, Wheelers Hill
Tue – Fri, 10am – 5pm
Sat – Sun, 10am – 4pm
Accessibility
Wheelchair access
Price
Free
Janet Laurence's immersive, multi-sensory installation Tears of Dust reflects upon the fragility and power of the natural environment. Her intensely seductive and yet haunting evocations of the natural environment creating encounters with our changing planet.
In this world premiere show, these wunderkammers (cabinets of curiosity) provide windows into our fragile ecosystem—of breathing forests, extreme weather events and dying glaciers—and offer a sense of connection with and, mourning of, our vanishing life world.
When encountering these familiar and yet otherworldly environments, we become profoundly aware of the interconnection of all life forms and the alchemical wonder of plants ability to regenerate.
Curated by Anouska Phizacklea Supported by The Albert and Barbara Tucker Foundation, the Luminaries and the MAPh Foundation
Curators
Anouska Phizacklea

Anouska Phizacklea (BA (hons), MA, MCom, CPA, GAICD) is Director of the Museum of Australian Photography (MAPh). Phizacklea has expertise across the visual, decorative, film and literary arts as well as finance and organisational development, with Masters Degrees in both Fine Arts and Commerce.

In 2023 she joined the board of the Melbourne Queer Film Festival (Treasurer). She has held senior management positions at leading Victorian public institutions, Heide Museum of Modern Art and the Australian Centre for Contemporary Art (ACCA), and worked for many years in art research and valuations in galleries and auction houses in Melbourne and London. Since her appointment at MAPh Phizacklea has curated group and single artist exhibitions with leading Australian practitioners