The Archive of Gesture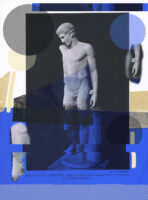 When
29 April 2022 - 22 May 2022
Venue
Spring St, East Melbourne
24 hrs
Theme
Accessibility
Wheelchair access
Price
Free
Gestures—unspoken forms of communication—play a large role in our everyday lives. But gestures can be misleading.
The Archive of Gesture by British artist Alexandra Lethbridge comprises found images, still life photography, and digital interventions.
Using Greek statues as a reference, this work is driven by from the absence of body language. In many instances, the arms or hands of the statues are missing, broken off, or amputated over time. The Venus de Milo, for instance, is said to have held an apple in one of her missing hands.
Lethbridge explores the balance between absence and presence, truth and lies, transparency and obstruction.
Curated by Photo Australia