The internet as a place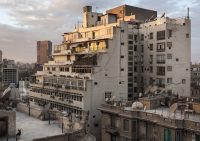 When
18 February 2021 - 7 March 2021
Venue
Located at the rear end of Windsor Hotel (111 Spring St), Melbourne

Outdoor work – accessible all hours
Accessibility
Wheelchair access
The internet is a network of networks. In his work The internet as a place, photographer Heinrich Holtgreve shows that these networks are not just abstract, but physical, too.
Led by a series of his own questions – 'What is the internet?', 'Can you visit it?', 'Is it a nice place?' – Holtgreve tracked down and photographed a number of sites where the internet makes itself visible: data centres, servers in warehouses, exchange points, maps of international cable systems.
The resulting images, shot mostly in Egypt, reveal some of the surprising physical realities behind the most powerful digital force that has ever connected our species.
Supported by the Goethe-Institut