Performance: Trevor Santos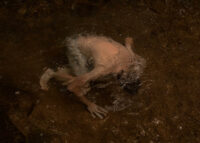 When
30 April 2022
Saturday, 2pm
(AEST)
Venue
Level 7/37 Swanston St, Melbourne
Wed – Sun, 12pm – 6pm
Price
Free, no bookings required
Dancer Trevor Santos will perform in response to notions of what a portrait can be.
This event is part of The Portrait exhibition curated by Karl Halliday and Josephine Mead, is an investigation into the emerging and fluid possibilities of portrait photography and its impact upon image-making today.
Ten artists have been invited to produce 'a portrait' for exhibition. The artists selected work in both traditional modes of portrait photography and alternative multidisciplinary practices. By considering the medium in an expanded sense, the artists are able to contemplate, critique, and challenge the limits of what a portrait can be.
Performer
Trevor Santos (AU)

Trevor Santos, is a Melbourne born and raised dance artist. He is critically acclaimed with recently receiving 4-star review in the Age for his first solo work '100 Haikus;' his practice revolves around emotion, expression and intimacy. Worked alongside artists – Guy Sebastian, Missy Higgins, Hayden Calnin, Sheppard, Kira Piru, Dual Manner and Hangeng (2012 MTV world artist). With over a decade of experience as an instructor and choreographer, Trevor has been able to teach in cities like New York, Beijing, Sydney, Gold Coast, Perth and Hobart.