Ioanna Sakellaraki (GR)
The Truth is in the Soil
29 April 2022 - 22 May 2022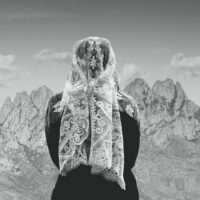 Image: Ioanna Sakellaraki, The Truth is in the Soil, 2019. Courtesy the artist.
When
29 April 2022 - 22 May 2022
Venue
74 – 108 Spring St, East Melbourne
24 hrs
Accessibility
Wheelchair access
Price
Free
Ioanna Sakellaraki's conceptual practice positions photography as ontological proposition within a nexus of fiction, collage and the archive. She investigates the capacity of images not only to document an underlying reality, but also to endlessly extend our perception; mobilizing the domains of time and space and how a personal experience of grief becomes a universal journey through memory and memory loss.
The Truth is in the Soil is a 5-year exploration of grief as an elegy to her father and the dying tradition of mourning in Greece. After her personal loss, Sakellaraki's own grieving process became the lens through which she investigates the collective mourning in Greek society, the intersection of ancestral rituals, private trauma and the passage of time. Further inspired by the last communities of mourners on the Mani Peninsula of Greece as the doyennes of a dying tradition, the work incorporates a new kind of subjectivity, intimacy, and criticism, exploring mortuary rituals as a way of humans adapting to death.
Through both manual and digital processes, she adds layers to what has been documented as real, rerouting the viewer through existing and imaginary spaces. Silhouettes of mourners gazing at mountain ranges appear weathered, time-worn and fragile with cracks and damage, whilst other images are cut-out, marked and reassembled, melding past with present. To her, these works become the vehicles for mourning perished ideals of vitality, prosperity and belonging, attempting to tell something further than their subjects by creating a space where death can exist.
Commissioned by Photo Australia
Supported by the Victorian Government