1 March 2024 - 23 June 2024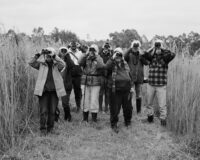 Image: Andy Johnson, LV Field Nats, 2023. Courtesy the artist.
A photographic collaboration with the people and landscapes of the Latrobe Valley, Gunai/Kurnai Country.
When
1 March 2024 - 23 June 2024
Venue
138 Commercial Rd, Morwell
Daily, 10am – 4pm
Accessibility
Wheelchair access
Price
Free
The Valley presents a body of work captured by four artists who have developed their photographic practices closely with local Melbourne gallery and photo lab, Hillvale—James Bugg, Anne Moffat, Clare Steele and Hillvale Photo co-founder, Andy Johnson. At the invitation of Latrobe Regional Gallery, they visited the Latrobe Valley in Gunai/Kurnai Country, Gippsland, Victoria over a six-month period. They were introduced to the community and the people and places that inhabit this rugged landscape made up of heavy industry and pastoralism.
This image-making project is also an ongoing collaboration, as the photographers lead a series of workshops using Hillvale Photo's recycled disposables, starting with local young people from Kurnai College's Flexible Learning Option, and continuing over the Autumn season, with participants' work displayed alongside the artists.
Curated by Hillvale and David Ashley Kerr
Curators
David Ashley Kerr

David Ashley Kerr is an Australian curator and writer-researcher living and working on Gunai-Kurnai land in Eastern Victoria. David has played an active role in arts and cultural development in Melbourne (Naarm), as well as in Northern and Eastern Europe. Often writing on the role of the image and the post-digital turn, David is passionate about community-engaged art and ecological art practices. David is the custodian of LOW Gallery + Projects, an established independent art space in Rīga, Latvia, and is currently Senior Curator at Latrobe Regional Gallery on Braiakaulung country in the Latrobe Valley area of Gippsland.