Atong Atem (SS/AU)
To Be Real
23 November 2020 - 7 March 2021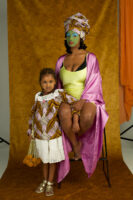 Image: Atong Atem, Saba and Gabby, 2020. Courtesy the artist and MARS Gallery.
When
23 November 2020 - 7 March 2021
Venue
400 Flinders St, Melbourne
Daily 10am – 5pm
Accessibility
Wheelchair access, Accessible Toilets
Surreal mythologies and constructed un/realities are brought to life in To Be Real, a major new commission by South Sudanese/Australian artist Atong Atem for PHOTO 2021.
Atem is known for exploring migrant narratives, postcolonial practices in the diaspora and identity through portraiture. Her dynamic compositions are drenched with colour, pattern, and potent visual references. These scenes reference the ways in which we construct personal and collective narratives, in an interplay of truth, reality, drama and artifice.
An eclectic and precise creator, Atem draws details from the visual languages of fantasy and science fiction, afrofuturism, history and mythology, studio portraiture and youth culture. Her subjects are empowered to control their own narratives. Untethered from realities, they flourish in liminal dream spaces filled with imagination and poetry. Her images prompt us to consider how we construct pictures and stories to understand ourselves, and what new possibilities we might see for ourselves when we embrace unreality.