Together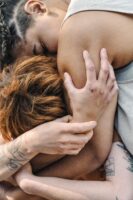 When
29 April 2022 - 22 May 2022
Venue
Spring St, East Melbourne
24 hrs
Theme
Accessibility
Wheelchair access
Price
Free
Let us abandon the notion of an individual that pre-exists its relationships.
In connection we discover who we are, what we believe, and the values we strive towards. Our entangled being erases division, and we recognise our inseparability from our connections.
Together is a series of speculative images that articulate human-to-human intra-action and entanglement. Through visual evocations of these philosophies, Wolff contemplates the importance of care, compassion, and love to our future/s.
The fleeting gestures of these images enunciate existing relational complexities between the artist and their collaborators. The varying maturity of these connections founds the vulnerability of each act. Through the language of the body as a conduit to our interiority, Wolff brings forth physical translations of care, compassion, and love.
These images exist in the space between the portrayal of pre-existent relationships and performative imaginings of connection. This tension speaks potently to the nature of pursuing virtue. These images recognise that togetherness is built upon moral decisions, and is something we must continue to strive towards, to imagine, and foster – that it does not exist without our active and vulnerable participation.
Wolff's practice is concerned with images that articulate vulnerability in their participation with the world/s of their collaborators. With an empathetic observational methodology, they produce works that attend to the power of marginality and diffraction within society. Through attention to human connection, they explore entangled existence and foster moral virtues of care, compassion, and love.
Commissioned by Photo Australia
Supported by the South Australian Government through Arts South Australia and the Restart Investment to Sustain and Expand (RISE) Fund, an Australian Government initiative