Helmut Newton (DE/AU)
VAULT: Sex Issue 38 Launch + Panel Discussion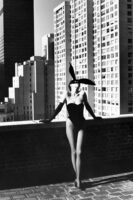 !NEWTONSW 1683-4
When
12 May 2022
Thursday, 6-8pm
(AEST)
Venue
26 Alma Rd, St Kilda
Tue – Fri, 10am – 5pm
Sun, 10am – 5pm
Accessibility
Wheelchair access
Price
$35, bookings required
To celebrate the launch of VAULT Sex Issue 38, join us for a panel discussion hosted by VAULT set amid the Jewish Museum of Australia's incredible HELMUT NEWTON: In Focus exhibition, currently on show in partnership with PHOTO 2022.
Taking the thematics of VAULT Magazine's latest issue and HELMUT NEWTON: In Focus as a starting point, the panel discussion grapples with sexuality, expression, innovation and censorship within art and fashion as seen through the work of Helmut Newton as well as from the perspective of creatives working today. Moderated by VAULT Editor Alison Kubler, panellists include Jewish Museum of Australia Director Jessica Bram, Jewish Museum of Australia Senior Curator and Collections Manager Eleni Papavasileiou and photographer Justin Ridler.
$35 ticket includes entry to the panel discussion and exhibition HELMUT NEWTON: In Focus at the Jewish Museum of Australia, as well as complimentary refreshments and a copy of VAULT: Sex Issue 38.