Campbell
Addy

(UK/GH)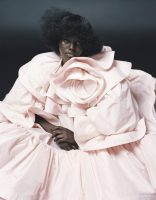 Image: Campbell Addy, Adut Akech, 2019. © the artist.
Campbell Addy is a London based photographer & filmmaker born and raised in South London. His work follows unique narratives and authentic emotions in nature, with a focus on distinctive casting and under-represented faces.
Since graduating from Central Saint Martins College of Art and Design in 2016, he has worked with editorial outlets including but not limited to i-D, Vogue, Financial Times, Dazed, Luncheon Magazine, Double Magazine, Wall Street Journal Magazine, Rolling Stone Magazine, and Garage Magazine. Addy's directorial feats range from a stunning piece for musician Anaïs' song Nina, and a coming-of-age execution of dance titled Come Together—a collaboration between Nowness and Harrods.
Addy's work has been exhibited internationally in London, Paris, Melbourne, New York, Oslo, and Norway. Campbell's 2017 solo exhibition entitled Matthew 7:7 launched alongside his first book Unlocking Seoul. He has also exhibited at the world renowned Somerset House, showcasing his work within Get Up Stand Up Now (curated by Zak Ové), which highlighted Black creatives, artists, and activists who left an impressive and pioneering mark on the world. Campbell also launched Nii Journal, a biannual arts and culture publication as well as Nii Agency, a modelling & casting agency dedicated to representing interesting faces and celebrating diversity.