The New Black Vanguard: Photography between Art and Fashion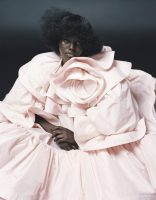 This exhibition presents artists whose vibrant photography fuses art and fashion in ways that break down long-established boundaries. Creating photography in vastly different contexts—New York and Johannesburg, Lagos and London, the artists' images open up conversations around the roles of the black body and black lives as subject matter. Seeking to challenge the idea that blackness is homogenous, the works serve as a form of visual activism. The results—often made in collaboration with black stylists and fashion designers—present new perspectives on the medium of photography and the notions of race and beauty, gender and power.
Exhibition organised by Aperture, New York and made possible, in part by Airbnb Magazine.
This exhibition was part of PHOTO 2021's expanded program and can now be viewed online on the venue's website.