Jaisingh
Nageswaran

(IN)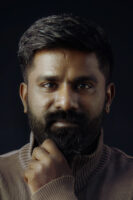 Born 1978, T. Vadipatti , Madurai District, Tamilnadu
Lives and works T.Vadipatti
Jaisingh Nageswaran is a self-taught photographer from Vadipatti village, Tamil Nadu, India. Born to working-class parents, he was educated by his grandmother at home.
Jaisingh's work revolves around showing the lives of socially marginalised communities, exploring themes of gender identity, caste discrimination, and issues of rural life. During the COVID-19 pandemic, he returned to his hometown where he is now turning his lens inwards to shed light on the everyday and historic acts of Dalit resistance and resilience through documenting his own childhood memories and tracing his family histories across four generations.
 
His works have been part of various solo and group shows in India and internationally. In 2020, he became a grantee of the Serendipity Arts Foundation and recipient of Les Rencontres de la Photographie d'Arles grant. In 2021, he became a Magnum Foundation Photography and Social Justice Fellow. His project "I Feel Like a Fish" was exhibited at the 13th African Biennale of Photography in 2023. The same year, he won the Grand Prix KG+ select in the Kyotography Festival (Japan), participated in the Khoj Curatorial Intensive South Asia Fellowship (India), and received the Musée du Quai Branly Jacques Chirac Photography award (France).