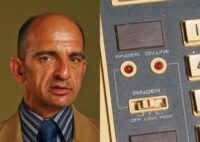 Born 1993, Melbourne, Australia
Lives and works Melbourne, Australia
With a background in stylised character-based photography that draws on the surrealism of glamour and consumption, Phebe moved into film direction, bringing her eye for singular and fun imagery to the screen. Inspired by science fiction and a culture of online self-performance, Phebe has the rare ability to approach complex topics with a playful sense of humour and a cutting-edge sense of style. Her unique visual language has seen her work for esteemed national and international publications from Vogue to Vault Art magazine. Phebe was the recipient of the 2018 Eastside International Residency (Los Angeles) 2018 and has exhibited work nationally and internationally at MONA (TAS), West Space (VIC), Art Space (NSW), Gertrude Contemporary (VIC), Moana Project Space (WA), Sarah Scout Gallery (VIC) and Gaia Gallery (Istanbul) among others.