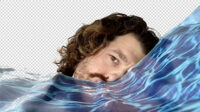 Born 1983, Perth, Australia
Lives and works Melbourne, Australia
Sam Lieblich is a Melbourne-based artist investigating networked and algorithmic forms. His work explores the orientation/disorientation of the subject in the other, and the manifestations of the human-algorithm hybrid into which human beings are now subsumed. These digital works combine machine learning algorithms with custom code to foreground systems design and—by finding beauty and intention in the system—to try to re-situate human desire in the algorithm.