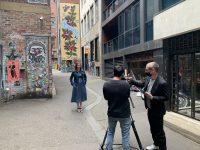 2021 Program Launch
17.11.20
In a time of a global pandemic, swathed in fake news, disputed elections and artificial intelligence there has never been a more important time to launch an international festival of photography that specifically examines 'The Truth'.
Our truth is that on the eve of our inaugural program launch the world was plunged into a global pandemic, but 8-months later, as Melbourne emerged from its second wave we unveiled one of the most significant photographic festival programs the city has ever seen.
Even though we weren't in a position to be able to congregate and celebrate the launch of PHOTO 2021 International Festival of Photography, we shared all of the program details through the magic of the internet, while welcoming our international colleagues to join us at the same time.
To help us celebrate the launching of our inaugural festival we heared from guest speakers including: Her Excellency Linda Dessau AC, Governor of Victoria; The Right Honourable Sally Capp, Lord Mayor of Melbourne; and Photo Australia Chair Mark Henry.
The online event concluded with an exclusive festival briefing from PHOTO 2021 Artistic Director Elias Redstone.