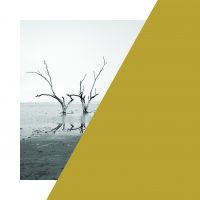 Celebrating First Nations artists of PHOTO 2021
10.11.20
We are extremely proud to celebrate the history, culture and achievements of our Aboriginal and Torres Strait Islander people and artists. To celebrate NAIDOC Week 2020 we would like to introduce you to some of the First Nations artists that will be presenting works at PHOTO 2021 in February. We have also included (where possible) their social media handles and places for you to find out more information about these wonderful artists.
Brook Andrew is a Wiradjuri/Celtic artist who has exhibited internationally since 1996. His interdisciplinary practice critically examines dominant narratives related to global histories of colonialism and modernity. Through museum and archival interventions, Andrew offers alternate visions of images and objects, and different means of interpreting history in the world today. Apart from drawing inspiration from vernacular objects and the archives, he travels internationally to work with different communities, as well as various private and public collections.
Andrew is Associate Professor of Fine Art at Monash University, Artistic Director of Nirin, the 22nd Biennale of Sydney, and is represented by Tolarno Galleries, Melbourne, Roslyn Oxley9, Sydney, and Galerie Nathalie Obadia, Paris and Brussels.
Photographer and artist Maree Clarke is a Yorta Yorta/Wamba Wamba/Mutti Mutti/Boonwurrung woman, who grew up in northwest Victoria—predominantly in Mildura—on the banks of the Murray River. Living and creating in Melbourne for the last three decades, Clarke makes works that explore the customary ceremonies and rituals of her ancestors.
Maree Clarke is a pivotal figure in the reclamation of southeast Australian Aboriginal art practices, reviving elements of Aboriginal culture that were lost—or laying dormant—over the period of colonisation, as well as a leader in nurturing and promoting the diversity of contemporary southeast Aboriginal artists.
Gunditjmara woman and Melbourne-based artist Hayley Millar-Baker uses multimedia to produce monochromatic photographic works that examine human experiences of time and memory.
Millar-Baker has been selected for the Ramsay Art Prize, the John Fries Award, and as one of the top eight young Australian artists for the Museum of Contemporary Art, Sydney's Primavera. Among other prizes, she has won the John and Margaret Baker Fellowship for the National Photography Prize, and the Darebin Art Prize.
She has exhibited at University of Technology, Sydney, TARNANTHI: Festival of Contemporary Aboriginal and Torres Strait Islander Art, Yirramboi Festival, the Sydney Festival,  HoBiennale, and Ballarat International Foto Biennale, and her work has been collected by the Australian War Memorial, Canberra, Melbourne Museum, Monash University Museum of Art, and State Library of Victoria, Melbourne.
Taungurung and Filipino man Alan Stewart uses photography to document his family, community, and personal journey as a First Nations person.
Reflecting stories from his childhood—first in Manila, and then in Melbourne— Stewart's pictures showcase his rich Filipino and Australian Aboriginal backgrounds.
Including images of family, and urban and regional environments, Dirty Dozen is a work that highlights the frictions experienced by First Nations people as they feel the continuing need for connection to Country while living in cities.
Born in Mildura, Victoria, visual artist James Tylor grew up in Menindee in far west New South Wales, before moving to Kununurra and Derby in the Kimberley region of Western Australia in adolescence. His work explores Australian cultural representations through the perspectives of his multicultural heritage, which comprises Nunga (Kaurna), Māori (Te Arawa) and European (English, Scottish, Irish, Dutch and Norwegian) ancestry.
Originally trained as a carpenter in Australia and Denmark, Tylor is now a multi-disciplinary artist whose practice explores Australian environment, culture and social history. His preferred mediums include video, painting, drawing, sculpture, installation, sound, scents, food, and using both analogue and digital photographic techniques to create contemporary Daguerreotypes, and to create new representations of Australian society and history.
Other First Nations Artists Include:
Steven Rhall
Michael Cook
Damien Shen
Jody Haines
Peta Clancy
Paola Balla
Deanne Gilson
Tashara Roberts
Pierra Van Spakes
Nici Cumpston