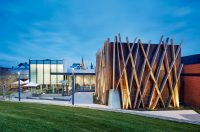 Introducing... Bendigo Art Gallery
24.4.19
Located approximately 150 km north-west of Melbourne, Bendigo Art Gallery programs exhibitions of international and Australian art across a range of different mediums, from photomedia to textiles and painting. We spoke with curator Jessica Bridgfoot about their upcoming program for PHOTO 2020 and the implications of photography as a medium of immediacy.
Why is photography as a medium important for the Bendigo Art Gallery?
Bendigo Art Gallery is dedicated to collecting contemporary photography with a large holding of works by some of Australia's foremost contemporary artists including Tracey Moffatt and Rosemary Laing. As a historic collection, we also have a large holding of mid-nineteenth century Stereographs and mid to late twentieth century works by artists like Roger Moore and Wesley Stacey, that capture the Australian experience during those times.
Photography is important to us as a means to document a place or moment at the forefront of social and political events – from the beginnings of colonisation to iconic contemporary movements of the last few decades. Key moments illustrated in our collection include Patricia Piccinini's 1996 'Psychotourism' heralding early moments in digital imaging and image manipulation; Rosemary Laing's powerful 2004 work 'Welcome to Australia' documenting the Woomera Detention Centre; and recent work, like Abdul Abdullah's 'Son of Sycorax' created in direct and immediate response to the devastating mosque protests in Bendigo. The photographic image has the ability to communicate in a way that is immediate and unfettered by artistic convention and remains an important part of our collection and exhibitions.
Why is it important for the Bendigo Art Gallery to participate in PHOTO 2020?
As an institution that supports and actively acquires contemporary photomedia based work it's important for us to position the gallery within a national and international context. PHOTO 2020 is a great opportunity for us to participate in larger contemporary dialogues about truth, beauty and image through the lens of contemporary art.
Why is the relationship between photography and truth important to investigate in the post-internet age?
We live in an image-propelled epoch and have become exhausted by the glut of photographic images available to us. We use photography to construct personal truths on social media and we ingest world truths on our news feed. As the medium of our time – and in an era of 'fake news' – it is essential artists interrogate the new role of photography itself as a truth that shapes how we see and share the world.
What can we expect from the Bendigo Art Gallery during PHOTO 2020?
An exhibition featuring major bodies of work by Australian artists that propose revelations and rumerations on the landscape as a political site. The exhibition will span two Gallery spaces, inside and outside the Gallery. Over the middle weekend of the festival, the Gallery will also feature a series of exciting programs and talks with our neighbours and education partners LaTrobe Art Institute.
Jessica Bridgfoot is a curator at Bendigo Art Gallery. Recent exhibitions include New Histories (2018) and Gothic Beauty: Victorian Notions of Love Loss and Mourning (2018/19). She is a member of the curatorial collective Kyneton Contemporary and was previously the visual arts program manager at The Substation, Melbourne.