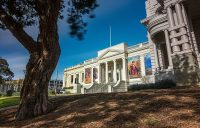 Introducing... Geelong Gallery
13.11.19
Established in 1896, Geelong Gallery is one of Australia's oldest regional galleries. The Gallery holds a broad collection of 19th, 20th and 21st century Australian and European art. We spoke to Jason Smith, Geelong Gallery's Director, about the Gallery's long-held relationship with photography.
Can you tell us about Geelong Gallery's commitment to exhibiting photography?
Geelong's collection of historical Geelong-focused documentary photography is strong, and we have a commitment to photography in our acquisitions policy. Geelong Gallery has routinely incorporated distinct photography exhibitions into its program over the past decades, or included in thematic exhibitions works by artists practicing in various forms of photo media, including moving image. For two decades, the Gallery hosted the biennial international photographic competition VIGEX, accredited by the Federation Internationale de l'Art Photographique (FIAP) and the Australian Photographic Society (APS).
Which notable photo-media artists have you worked with?
Recently we presented major projects by Murray Fredericks, Jo Scicluna, and Gabriella and Silvana Mangano. We have acquired works by and included numerous thematic exhibitions a range of emerging and influential established practitioners including Anne Zahalka, David Rosetzky, Daniel Crooks, Charlie Sofo, Christian Thompson, RONE and Cricket Saleh.
Why is it significant that PHOTO 2020 is taking place in Geelong?
Geelong has a dynamic and thriving arts culture with a number of prominent local contemporary artists including Cricket Saleh working with photography. At Geelong Gallery we consider it vitally important to be 'in the field' with artists as their practices evolve, and PHOTO 2020 offers a great opportunity for local artists to engage with the breadth of practices encompassed by this particular festival.
In your opinion, how has the role of the photographer evolved?
The role of the photographer is to provide the conceptual and aesthetic X factor that powerfully communicates the multiple contexts in which we might see, feel and understand an image beyond the ubiquitous pouting selfie and the banal everyday.
What can we expect from Geelong Gallery during PHOTO 2020?
We are very excited to be working with an eminent, critically acclaimed Sydney-based photographer. The artist will present a new series of large-scale colour photographs that combines enduring conceptual practice with autobiographical images and subjects from the artist's childhood and youth. The exhibition will encourage audiences to explore new narratives and ideas on identity and home truths.
What is the most exciting aspect about being part of PHOTO 2020?
Clustering is the new black and it is enlivening to be part of a vital community of artists and organisations asserting the continuing value and relevance of photo-media practices.
Jason Smith is the Director of Geelong Gallery. He was previously Curatorial Manager of Australian Art at the Queensland Art Gallery / Gallery of Modern Art; Director & CEO of Heide Museum of Modern Art; Director of Monash Gallery of Art; and Curator of Contemporary Art at the National Gallery of Victoria. He has individually and collaboratively curated 55 solo, group and thematic exhibitions including major surveys of the works of Howard Arkley, Peter Booth, Louise Bourgeois, Gwyn Hanssen Pigott, Stephen Benwell and Kathy Temin.