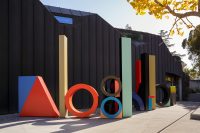 Introducing… Heide Museum of Modern Art
13.3.19
Heide Museum of Modern Art is a unique institution that plays a role in the artistic and cultural history of Australia. Today it provides a unique setting for the display of modern and contemporary art. We spoke with assistant curator Brooke Babington about their upcoming program for PHOTO 2020 and the implications of photography as a distortion of reality.
Why is photography as a medium important for Heide Museum of Modern Art (Heide)?
While photography is in one sense a truly contemporary medium, it has its roots in modernism, coming to the fore as an art-form uniquely positioned to respond to the rapid technological and cultural advances of the early to mid-twentieth century.
Likewise, Heide has a strong modernist heritage. From the 1930s, its founders John and Sunday Reed opened their home to like-minded individuals, nurturing a circle of artists, writers and intellectuals who contributed to Heide becoming a locus for the discussion, creation and promotion of modern art and literature. The legacy of the Reeds is honoured through a variety of changing exhibitions that draw on the museum's modernist history and its founders' philosophy of supporting groundbreaking contemporary art.
Why is it important for Heide to participate in PHOTO 2020?
Today, Heide seeks to uphold and evolve the Heide spirit across arts and ideas, increasing audience awareness and deepening engagement. To this end, since 2006, we have shown a series of project exhibitions by emerging artists often providing them with their first opportunities to work in public art museums. PHOTO 2020 will allow us to extend this mandate by engaging with an international artist in the early stages of their career and at the forefront of their discipline.
Why is it significant that PHOTO 2020 is taking place in Melbourne?
Melbourne has long been regarded as the cultural capital of Australia, and PHOTO 2020 will connect sites across the city to offer audiences a glimpse at some of the most innovative new work to emerge in the discipline. Such a festival can change the cultural landscape of Melbourne; if only momentarily, it allows us to stop and collectively hold a mirror up to our contemporary society.
Why is the relationship between photography and truth important to investigate in the post-internet age?
From documentary photography to the cultural phenomenon of photoshopping images, photography is well suited to considering objective reality. Most of us can't go past the old adage that 'seeing is believing', despite all evidence to the contrary in our contemporary era. In a political climate in which claims of 'fake news' and climate change denial are ubiquitous, today more than ever, what you see is not necessarily what you get.
Photography is particularly well placed to speak to the contemporary era. Our everyday experiences are so heavily mediated by a constant stream of images and information and photography slows this down. The photograph as a 'real-world' object renders the immaterial flow of information in the digital age into concrete, tangible form.
What can we expect from Heide during PHOTO 2020?
Audiences can expect to see innovative and dynamic new video work by an exciting international artist in Heide's project gallery and an outdoor billboard work installed in Heide's iconic sculpture garden. The works will contend with the festival theme of truth but will also engage with both the site and the world on a global scale.
Brooke Babington is Assistant Curator at Heide Museum of Modern Art. Brooke is a recent alumni of the Gertrude Contemporary Studio Artist Program (2015–17), in which she extended her practical and curatorial investigations into the limits of the artist-curator role. Prior to this, Brooke was the Director of Slopes, a twelve-month, not-for-profit project space in Fitzroy, Melbourne.