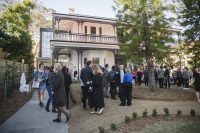 Introducing... Linden New Art
14.11.19
Based in St Kilda, Linden New Art is a public art gallery that celebrates bold new Australian art. Established in 1986, Linden has a proud history of enriching the local and broader Melbourne community through exhibitions, events, conversations and workshops. We spoke with Linden New Art's Director Melinda Martin about the significance of photography as an art form and the important role it plays in questioning the truth.
In a time when most people own smart phones or cameras, how has the role of the photographer evolved in society?
Today we consume images, largely photographic images, at an unprecedented rate. We share them and critique them as if they are extensions of ourselves. Anyone can take the role of a photographer at any time. It is therefore increasingly important to celebrate and elevate the photographic work of committed and exceptional artists who bring something far more to the art form than a need to document and share mundane ephemera.
In the Linden Projects Space, we have recently exhibited the work by Melbourne based artist Julie Shiels in her show Hidden Life, A Domestic Study. Julie's photographs have been shot on her smart phone and capture unrecognised forms and perspectives from her domestic environment. This exhibition exemplifies our need to capture our environment in order to better understand it.
Why do you think photography is so accessible as an art form?
Photography offers a level of directness and immediacy, often by capturing content that is easily recognisable and relatable. Our homes and phones are full of images that we have captured from the world, so photographs often carry a sense of familiarity. We don't have to wonder what the medium is, or often how it has been made. This frees us to only consider what is depicted and why.
Can you tell us about some of the notable photo-media artists Linden New Art has worked with?
As an artistic incubator, many artists who have shown at the gallery are now established Australian artists with international careers. Photography is a multivalent medium within contemporary art practice and as such it features regularly in our program. Some notable inclusions are Julia deVille's exploration of photogrammetry (the science of making measurements from photographs) and holography (the science and practice of making holograms) as part of her extensive solo exhibition Wholeness and the Implicit Order, which was accompanied by a series of photographs by Natalie Ryan in her exhibition Imaging the Dead. Ryan's photographs of animal specimens were taken during a residency with the University of Melbourne's Veterinary Department. We have also recently shown photographic work by recent graduate Tammy Law in the Linden Art Prize, Queensland based Marion Drew and Indigenous artist Genevieve Grieves.
What can we expect from Linden New Art during PHOTO 2020?
We are thrilled to be part of this new festival and to represent the south side of Melbourne. Linden will present an ambitious and thought-provoking new body of work by a leading Indigenous artist. His exhibition will include a series of photographic works along with sculptures and objects that experiment with photographic applications. Grounded in archival, institutional and community research, this new exhibition raises questions about ownership of cultural knowledge and institutionalisation of sacred objects.
Why is the relationship between photography and truth important to investigate in the post-internet age?
Photography has always been an incisive medium in questioning the truth of what the eye sees. As a cornerstone of documentation and as a foundational component of digital culture, photography is uniquely positioned to reveal the many layers of truth that make up our perception of reality. This extends to our understanding of local and global events and culture. We must explore the truthfulness of the images with which we are bombarded in order to steady our grasp of how we relate to the world around us and each other.
Melinda joined the team at Linden as Director in July 2012. Prior to joining Linden, Melinda was the Manager of National Programs and Services at the Australia Business Arts Foundation (AbaF) (now Creative Partnerships Australia) and oversaw their professional development and philanthropic programs. Melinda has also worked as the Gallery Manager at Anna Schwartz Gallery, Program Manager at Monash Gallery of Art, Studio Manager for Australian artist John Young and Research Assistant to Dr Chris McAuliffe at the University of Melbourne.