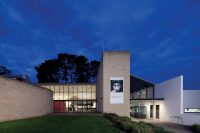 Introducing... Monash Gallery of Art
15.5.19
Monash Gallery of Art is dedicated to the collection and exhibition of photography, and hosts the annual William and Winifred Bowness Photography Prize. We spoke with MGA's director, Anouska Phizacklea, about their upcoming program and the relative nature of truth in photography.
Why is photography as a medium important for the Monash Gallery of Art (MGA)?
MGA is the Australian home of photography. We champion Australian photography and inspire audiences to delve into the art form in all its guises; to discover how vital and significant photography is to our society. Our five annual exhibition seasons across three main gallery spaces provide a unique platform to profile artists, inspire audiences and explore the depth and breadth of photographic practice globally.
Why is it important for the MGA to participate in PHOTO 2020?
MGA recognises the significant impact a festival dedicated to photography will be for photography in Australia. It will celebrate, champion and profile photography in Australia on a global stage and generate new audiences for the art form.
Why is it significant that PHOTO 2020 is taking place in Melbourne?
Melbourne has such a diverse and vibrant art scene, with leading galleries dedicated to the art form of photography. PHOTO 2020 will place the artists and photographers of our city centre stage, generating increased interest with new audiences for photography.
Why is the relationship between photography and truth important to investigate in the post-internet age?
Photography has been perceived as a way to document reality and yet photographers have always been playing with the image – whether within the camera, a darkroom and now digitally. Today photography is the most important and influential art form of our generation and is used as a key communication tool by people in their daily lives. However, with the advent of digital technology and the rise of social media it has become easier to manipulate and transform an image. Truth in the post-internet age is relative and contextual – we are used to using images to tell our own truths, truths that sometimes have little basis in reality.
What can we expect from the MGA during PHOTO 2020?
An intense international exhibition that draws ties between Australian practice and the development of new documentary photography on the global stage. The exhibition at MGA will give Australian audiences an insight into changes that have been occurring in documentary photographic storytelling in the past decade or so, and an indication of the modes and directions these practices could take.
Anouska Phizacklea is Director of Monash Gallery of Art. She has held senior management positions at leading public institutions in Victoria including Heide Museum of Modern Art and the Australian Centre for Contemporary Art, and worked for many years in art research and valuations in galleries and auction houses in Melbourne and London.