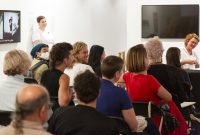 Photobook Weekend: Narrative in Visual Storytelling
8.6.21
What is narrative and why is it important to understand its role in visual storytelling? What is the arc of a story? What are story beats? Do visual stories need a beginning, middle and end? In this session, journalist and scholar Alison Stieven-Taylor explores these ideas with photographer Tom Goldner, in relation to his latest work, 'Do Brumbies Dream in Red?'.
This event was recorded at the Centre for Contemporary Photography on 27 February 2021.
PHOTO 2021's Photobook Weekend was supported by Momento Pro and the Goethe-Institut.