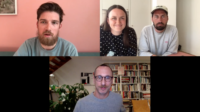 PHOTO LIVE with Sara, Peter & Tobias
24.4.20
On Thursday 23 April 2020, PHOTO 2021 Artistic Director Elias Redstone spoke with Danish collective Sara, Peter and Tobias about UFOs, extraterrestrial life and how the real world and digital world are merging into one.
In 2015, Sara Brincher Galbiati, Peter Helles Eriksen and Tobias Selnaes Markussen formed a artistic collective in which they document subject matters that revolve around disputed interpretations of reality. They place themselves in the intersection between traditional documentary and art photography. The collective has a conceptual approach which examine issues founded on theories and first-person accounts alongside hard facts. They utilize an anthropological method of combining photography and extensive research. Throughout their projects they share and collaborate on every aspect of the process – from research, interviewing, shooting pictures to editing the final photos and text.
The trio's 2016 photobook, Phenomena, presents a thorough look at the UFO myth and its believers through an investigative journey across Nevada, New Mexico and Arizona. Using an anthropologic approach, the group aimed to collect as much documentation as possible and maintained a non-judgmental mind when interviewing their sources.