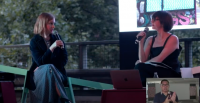 PHOTO LIVE with Rafaela Pandolfini
25.2.21
PHOTO LIVE features artists premiering new projects that occupied public spaces during the Festival.
PHOTO LIVE is a series of artist conversations that took place throughout PHOTO 2021 addressing the social and cultural role photography plays in our lives. Curators, academics and practitioners discussed a range of issues from identity, community and belonging to human rights and social justice.
Director of West Space, Amelia Wallin, is in conversation with artist Rafaela Pandolfini as they discuss her festival exhibition Myths & Facts.
A procession of photographs displayed on billboards dispersed along the Hume Highway between New South Wales and Victoria, portray phrases pertaining to the legal definition of climate action and words drawn from environmental policies. Transposed from official documents onto "chux" cleaning cloths, the recognisable zigzag pattern of the chux is a recurring motif in the artist's ongoing exploration of gendered and emotional labour.
In partnership with MPavilion.