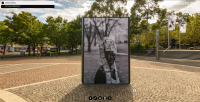 PHOTO 2021 Virtual Tour
5.3.21
Explore the PHOTO 2021 Outdoor Program from wherever you are in the world.
For those of you who couldn't get to Melbourne for PHOTO 2021, today we are bringing our outdoor program to you! Over 40 artist projects are presented in 360 degrees in the PHOTO 2021 virtual tour. View Hoda Afshar's work Agonistes out the front of St Paul's Cathedral, Zanele Muholi's powerful Somnyama Ngonyama in Argyle Square in Carlton and move along over 500 metres of Australian and international works across the Metro Tunnel hoardings.
And for those of you in Melbourne, this virtual tour can help you relive the captivating works that we brought you over the 18-days of PHOTO 2021.
This project has been supported by the Australia Council of the Arts.