Leyla Stevens (AU/BALI)
A Line in the Sea
23 January 2021 - 7 March 2021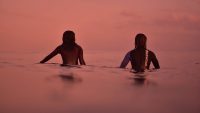 Image: Leyla Stevens, A Line in the Sea, 2019. Courtesy the artist.
When
23 January 2021 - 7 March 2021
Venue
102/30 Perry St, Collingwood
Wed – Fri, 12pm – 6pm
Sat – Sun, 12pm – 4pm
Accessibility
Wheelchair access, Accessible Toilets
A Line in the Sea is a moving-image work by Leyla Stevens that contests the construction of Bali as an island paradise within the Australian imagination.
The multi-channel video is a feminist retelling of a seventies Australian cult surf-film that popularised Bali as a tourist destination. The lush, colour-saturated imagery directly references the footage of Australian male surfers as they 'discover' south Bali's coastlines, less than a decade following Indonesia's anti-communist killings that claimed 80,000 lives in Bali alone.
Using speculative and documentary modes of filmmaking, the work explores the spectral trace of Bali's political violence and looks at the ways the Australian surfer romance wiped the island clean of past atrocities.