American Mirror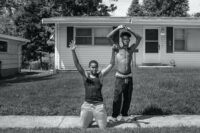 When
29 April 2022 - 29 May 2022
Venue
1 Mater St, Collingwood
Wed – Fri, 12pm – 2pm
Sat, 12pm – 5pm
Theme
Accessibility
Wheelchair access
Price
Free
American Mirror is award-winning photographer Philip Montgomery's dramatic chronicle of the United States at a time of profound change.
Through his intimate and powerful reporting and signature black-and-white style, Montgomery reveals the fault lines in American society, from police violence and the opioid addiction crisis to the COVID-19 pandemic and the demonstrations in support of Black lives. Yet in his unflinching images we also see moments of grace and sacrifice, glimmers of solidarity, and tireless advocates for democracy. Like Dorothea Lange and Walker Evans before him, Montgomery has made an unforgettable testament of a nation at a crossroads.
Curator
Ying Ang

Working as artist, educator and curator, Ying Ang's critically acclaimed book, Gold Coast, won the New York Photo Festival and Encontros Da Imagem book prizes for 2014. She fulfilled the role of chief curator for the Obscura Festival of Photography in Malaysia in 2016 and was the keynote speaker at the inaugural Photobook New Zealand. Her latest work, Bower Bird Blues, was a Vevey Images Grand Prix finalist, honorably mentioned for the Julia Margaret Cameron Award and exhibited in a solo show for Rencontres d'Arles in France in 2019. Ying was most recently featured in FIRECRACKERS: Female Photographers Now, a showcase of contemporary female photographers published by Thames & Hudson, and How We See: Photobooks By Women, featuring 21st-century photobooks by women photographers. Ying is currently teaching at the ICP in New York and is the Director of the Reflexions Masterclass in Europe and Le Space Gallery in Melbourne, Australia.