Australian Photobook Awards
21 May 2022 - 22 May 2022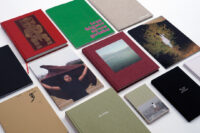 Australia & New Zealand Photobook Award 2019 finalists
When
21 May 2022 - 22 May 2022
Venue
37-47 Thistlethwaite St, South Melbourne
Accessibility
Wheelchair access
Price
Free
Browse the 2022 Australian Photobook Awards shortlisted best new Photobooks and Pre-Press publications. This year there are three categories on exhibit: Photobook, Digital Pre-press, Student Pre-Press and Student Photobook.
Since 2011, the Australia & New Zealand Photobook Award has been facilitated by Momento Pro. As of 2021, Photo Collective has taken custodianship of the Australian side of this significant award.
Over the past decade, the Australian Photobook Award has helped to progress the careers of students and artists, providing opportunities to produce publications and progress their photographic career.
Opening Hours:
Sat 21 May, 12—5pm
Sun 22 May,12—4pm