Talk: Design and Printing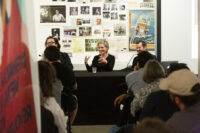 When
21 May 2022
Saturday, 2:30-3:30pm
(AEST)
Regions
Venue
37-47 Thistlethwaite St, South Melbourne
Price
Free, bookings required
In this three-part series experts will discuss the process of making photobooks in depth. From conceiving and shooting the project, design and creating the book as object, through to publishing, distribution and critique.
Part Two: Design and Printing
The second panel conversation will discuss designing and printing with regard to:
Concept development with respect to design decisions. Allowing the design to influence the edit and allowing the concept to inform the design.
Working with a designer. What is their role? How is it influenced by self-publishing or working with a publisher? How have things changed with the advent of digital printing?
Printing: digital vs offset? Australia vs offshore? What costs are you looking at, what are you paying for? How can you raise funds for those costs?
With Narelle Brewer, Megan Patty and Ying Ang.
Speakers
Ying Ang

Working as artist, educator and curator, Ying Ang's critically acclaimed book, Gold Coast, won the New York Photo Festival and Encontros Da Imagem book prizes for 2014. She fulfilled the role of chief curator for the Obscura Festival of Photography in Malaysia in 2016 and was the keynote speaker at the inaugural Photobook New Zealand. Her latest work, Bower Bird Blues, was a Vevey Images Grand Prix finalist, honorably mentioned for the Julia Margaret Cameron Award and exhibited in a solo show for Rencontres d'Arles in France in 2019. Ying was most recently featured in FIRECRACKERS: Female Photographers Now, a showcase of contemporary female photographers published by Thames & Hudson, and How We See: Photobooks By Women, featuring 21st-century photobooks by women photographers. Ying is currently teaching at the ICP in New York and is the Director of the Reflexions Masterclass in Europe and Le Space Gallery in Melbourne, Australia.

Narelle Brewer (AU)

With expertise in branding, art direction and publication design, Narelle Brewer's career spans more than two decades working in both Australia and Europe. She is Design Director at Melbourne studio Round, where she has headed a diverse range cultural projects, festivals and major publications, bringing a strong understanding of arts and culture locally and globally. Projects of note include the Footscray Community Arts 2021 (rebrand); Craft Victoria (rebrand); Venice Architecture Biennale 2021 (identity); Sydney Writers Festival 2021, 2022; The Wheeler Centre (Broadside Festival 2019); RMIT Design Hub Gallery (Workaround exhibition identity), Potter Museum of Art (museum identity, exhibition identity, website); and Buxton Contemporary (identity). She is also Senior Designer for Perimeter Bureau, for which she helmed Perimeter's 2021 rebrand and has designed award-winning artist and photobooks with the likes of Polly Borland, David Rothenberg, Clare Rae, Emma Phillips, David McDiarmid, Bartolomeo Celestino, Simone Gooch and Derek Henderson, and others.

Megan Patty (AU)

Megan Patty is Head of Publications, Photographic Services and Library at the NGV. and founding Curator, Melbourne Art Book Fair. She has edited numerous publications including Some Posters from the NGV (2017); NGV Triennial (2017); The Centre on Art & Urbanism in China (2019) and She Persists (2020); After The Australian Ugliness (2021); Art Writing in Crisis (2021). Her curatorial projects span publishing and graphic design and include major exhibitions Experimental Jetset: Super Structure (2018) and Metahaven: Field Report (2020). For the past thirteen years, she has worked across the museum and arts sector to develop new publishing propositions for museums, artists, and private and public collections. She is a PhD candidate at RMIT University in the School of Design.