Book Launch: Grace Wood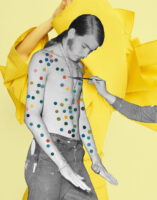 When
30 April 2022
Saturday, 2:30-3:30pm
(AEST)
Venue
136a Bridge Road
Richmond
Wed – Sat, 12pm – 5pm
Price
Free, no bookings required
Please join us for the book launch of The hand of an armless statue by Grace Wood, with guest speaker, MGA Senior Curator Pippa Milne.
Published by M.33 with an essay by Kiron Robinson, the book continues Wood's compulsive practice of mining the internet for images, recontextualising them and giving them new meaning. Wood throws images and words into search engines and what is spat out is collected, altered and repurposed – the process itself speaks of the paradox of connectivity afforded by the internet, where isolated images can be at once linked by a hashtag or the embedded text of their uploader.
Presented by M.33 in association with LON GALLERY.
Speaker
Pippa Milne (NZ)

Pippa Milne is a writer and curator based in Melbourne. She is the Senior Curator at Monash Gallery of Art, Melbourne and has been working with photography since 2011. She was previously Curator at the Centre for Contemporary Photography, Melbourne and Associate Curator of International Art at Queensland Art Gallery / Gallery of Modern Art, Brisbane. Recent exhibitions Pippa has curated include Bill Henson: The light fades but the gods remain (2019), Architecture Makes Us: Cinematic Visions of Sonia Leber and David Chesworth (2018) (co-curated with Naomi Cass and Made Spencer Castle) and An unorthodox flow of images (co-curated with Naomi Cass) (2017). Pippa is a regular contributor to publications and institutions in Australia and New Zealand and has been a nominator for various prizes including ICP Infinity Award and Prix Pictet.

Grace Wood

Grace Wood is an artist from Narrm, Australia. In 2014, she graduated from the Victorian College of the Arts with a Bachelor of Fine Art (Honours). Grace utilises her ever-expanding collection of images to create collage-based installations that dissect eccentricities of the internet archive, notions of elitist art history, and contemporary photography. Her work is concerned with the concept of the archive, and digital technology's capacity to generate, alter and namelessly disperse images.

Grace has exhibited extensively in Australia; some recent exhibitions include Thirsty, LON Gallery, VIC, 2022; Garden Variety, PHOTO 2021 at Royal Botanic Gardens, 2021; The Image, Blindside, 2021; Ground Control, Richmond Town Hall Gallery, VIC, 2021; There are no new waves, only ocean, LON Gallery, VIC, 2020; Ersatz, Cool Change Contemporary, WA, 2019. Grace completed a public commission for City of Stonnington and Mars Gallery (VIC) in 2020 and undertook the AARK Archipelago Art Residency, Finland in 2019. Grace is represented by LON Gallery, VIC.