29 April 2022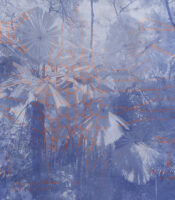 Image: Danie Mellor, The spectre, 2021. Courtesy the artist and Tolarno Galleries.
When
29 April 2022
Friday, 6-7pm
(AEST)
Venue
Level 4/104 Exhibition St, Melbourne
Tue – Fri, 10am – 5pm
Sat, 1pm – 4pm

Price
Free, no bookings required
Join artist Danie Mellor in conversation with Tyson Yunkaporta for the opening of his exhibition redux.
The gallery will be open from 5 – 8pm, with the talk taking place from 6 – 7pm.
Danie Mellor is a contemporary Australian artist whose multidisciplinary practice explores the intersections of contemporary and historic culture. In considering Australia's recent and ancient past, his work traverses the breadth of those narratives in relation to global art histories. Mellor's revaluation of iconic landscape traditions is informed by his connection to place through Aboriginal heritage, and ongoing preoccupation with Australia's landspace.
Tyson Yunkaporta is an Australian academic, arts critic and researcher, who belongs to the Apalech Clan in far north Queensland. He is the author of Sand Talk: How Indigenous Thinking Can Save the World (Text Publishing, 2019), as well as being a published poet and carver of traditional tools and weapons. He is a senior research fellow and founder of the Indigenous Knowledge Systems Lab at Deakin University in Melbourne. He applies Indigenous thinking to issues that scientists and technologists are currently working on across economics, governance, evolutionary dynamics, cognition and the environment.
Please note: At this time, Tolarno Galleries is only accessible via the stairs while the lift is being replaced. There are 103 steps in total. This is part of ongoing building restoration and essential works occurring onsite that will greatly enhance accessibility in the future. We apologise for the inconvenience.
Artist
Danie Mellor (AU)

Born 1971, Mackay, Australia
Lives and works Bowral, Australia

Danie Mellor is a contemporary artist whose multidisciplinary research and practice explore intersections between contemporary and historic culture, and the legacies of cultural memory and knowledge. Born in Mackay, North Queensland, his maternal family heritage is Aboriginal with Scottish and Irish settler ancestry from the Atherton Tablelands and Cairns region, and his father's family emigrated to Australia from California in the early 1900s.

Mellor's work is held in regional, state, and national collections, including the NGA and MCA Australia, and international museums including the National Gallery of Canada, The British Museum, and National Museums Scotland. His work has received major awards, acquisitions, and commissions including the MCA Australia's Sculpture Commission in 2019, the National Gallery of Australia Member's 2019 Acquisition Fund, and the National Aboriginal and Torres Strait Islander Art Award in 2009. He was awarded his PhD from the Australian National University in 2005 and held positions of lecturer and senior lecturer at the National Institute of the Arts, ANU and then Sydney College of the Arts, University of Sydney.

In 2010 he was appointed to the Visual Arts Board at the Australia Council for the Arts and subsequently served as Chair of Artform until 2015. In 2020 he was appointed to the Board of MCA Australia and the Visual Arts Board of Create NSW.