DESTINY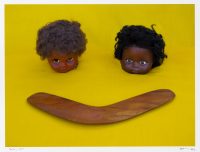 PLEASE NOTE: This exhibition closed on 12 February 2021.
Destiny Deacon (Kuku, Erub/Mer) is internationally renowned for her darkly comical work that offers a nuanced, thoughtful and, at times, intensely funny snapshot of contemporary Australian life.
The largest retrospective of Deacon's work to date, DESTINY is a collection of more than 100 photographs, videos and multi-disciplinary works made over more than three decades. The exhibition includes the world premiere of a new body of work, as well as an early collection of videos that have never before been exhibited at the NGV.
By contrasting seemingly innocent childhood imagery with scenes taken from the darkest reaches of adulthood, Deacon uncovers disturbing discrepancies between real and imagined representations of Australian Aboriginal life. DESTINY is a rare and unique insight into the life and work of one of Australia's most daring contemporary artists.
This exhibition was part of PHOTO 2021's expanded program.