1 March 2024 - 24 March 2024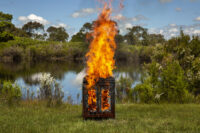 Image: Paula Mahoney, I ain't got time for that now, 2023.
Eleven artists ask how our actions will impact our collective future.
When
1 March 2024 - 24 March 2024
Venue
Cnr Glen Eira and Hawthorn Rd, Caulfield
Mon – Fri, 10am – 5pm
Sat – Sun, 1 – 5pm
Closed on Public Holidays
Accessibility
Wheelchair access
Price
Free
In Edge of Elsewhere, eleven established photographers intersect through the thematic strands of environmental and social futures, considering potential scenarios and the impact of our actions. These artists are united by shared concerns around the global climate catastrophe, the Anthropocene, environmental degradation and the social implications. Their work raises awareness of the urgency to find solutions and address the fate of the world.
This exhibition forms a nuanced conversation around how changing societal and environmental ideologies will impact us now and in the future. Edge of Elsewhere interweaves these perspectives into a powerful meditation on how we envision our existence in the future, within the context of a rapidly changing world.
Curated by Diane Soumilas Presented by The Contemporary Collective (TCC)
Curators
Diane Soumilas

Diane Soumilas is the Gallery Coordinator and Curator at Glen Eira City Council Gallery, Melbourne where she has worked since 2008 and curated many survey and thematic exhibitions of Australian contemporary art. Recent exhibitions include Flourish (2023) Telling Tales (2021) and Louise Paramor: Emporium Survey exhibition (2013).
Diane has worked in the public gallery and museum sector in Melbourne, Australia and overseas in Paris, France for over thirty years in curatorial and museum management roles and has curated many exhibitions of Australian and international art.