Online Talk: Emmanuelle Andrianjafy and George Georgiou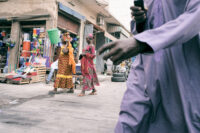 When
28 February 2021
Sunday, 8-9am
(AEST)
Join Emmanuelle Andrianjafy and George Georgiou for an exclusive online conversation about their book-making practices. Chaired by Markus Schaden, Director of the PhotoBook Museum, Cologne.
Emmanuelle Andrianjafy's book Nothing's in Vain is a personal response to the city of Dakar, and won the 2017 MACK First Book Award. Americans Parade by George Georgiou builds up a picture of Americans in the United States in 2016, the year Donald Trump was elected, a year when America's divisions have never been more pronounced.
The talk will be broadcast on photo.org.au and Facebook Live
No bookings required
Supported by the Goethe-Institut
Part of PHOTO 2021's Photobook Weekend
Speakers
Emmanuelle Andrianjafy (MG)

Living and working in Dakar, Senegal, Emmanuelle Andrianjafy's photographs immerse the viewer in the street scenes, landscapes and close-up details of her adopted home.

Winner of the MACK First Book Award and Contemporary African Photography Prize in 2017, Andrianjafy's Nothing's in Vain was also a finalist in the Aperture Portfolio Prize in the same year. Showing soon at the Singapore International Photography Festival, Andrianjafy's previous exhibitions include Bamako Encounters, the Museum of the African Diaspora in San Francisco, Lagos Photo Festival, Photo London, the Athens Photo Festival, Addis Foto Fest, and the Aperture Summer Open.

Nothing's in Vain has also featured in the British Journal of Photography, Radio France Internationale, CNN, American Suburb X, Contemporary And (C&), and Zum magazine.

George Georgiou (UK)

British photojournalist George Georgiou's images investigate individuals, communities, and urban public spaces.

His work is featured in the collection of the Museum of Modern Art, New York and the Sir Elton John Photography Collection. Awards include The British Journal of Photography project prize, two World Press Photo prizes, and Pictures of the Year International first prize. He has produced three monographs; Fault Line/Turkey/East/West, Last Stop, and Americans Parade (shortlisted for Aperture/Paris Photo Best Photo Book 2019).

Markus Schaden (DE)

Markus Schaden founded the publishing house and book shop specialised on PhotoBooks – Schaden.com – in 1995. Schaden.com published more than 100 PhotoBooks, took part in countless international festivals, fairs and conventions, and by 2011, they had already organised more than 250 events and book signings. As the former vice president of the German Society of Photography (DGPh) and as a member of the editorial board FOAM Magazine, he has served on the juries of photography festivals in Arles, Paris, Krakow, Braga, Amsterdam, Kassel, Los Angeles and others.

He curated PhotoBookStudies on The La Brea Matrix, a multi-faceted PhotoBook research project in 2008 and on Ed van der Elsken's photo novel, Love on the Left Bank in Paris and Istanbul. Schaden taught PhotoBook Masterclasses in Amsterdam, Jakarta, Dhaka, Mexico City, Bahrain, Arles and Cologne in cooperation with the Goethe Institut.

In 2014, Schaden founded The PhotoBookMuseum, the first museum focussed on the curatorial display of PhotoBooks worldwide. After an exceptionally successful establishing exhibition in Cologne, Germany, The PhotoBookMuseum was on tour with stopovers in Krakow, Kassel, Oslo and Barcelona and is now at work and looking for a permanent residence.