Far From The Eye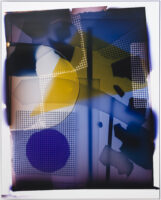 When
27 January 2021 - 18 April 2021
Venue
121 View St, Bendigo

Tue – Fri, 10am – 5pm
Sat – Sun, 12pm – 5pm
Accessibility
Wheelchair access, Accessible Toilets
Drawing from a collaborative dialogue with chemical biologist Dr Donna Whelan from La Trobe University's Institute of Molecular Science, Melbourne-based artist Danica Chappell presents a new commission for PHOTO 2021 across two galleries and a public artwork on the building's façade that incorporates laser microscopy with various traditional and contemporary image-making techniques.
Working with the malleable photograph, Chappell establishes a grounding based on shadows activated by the photogram. Light, shadow, form, colour and actions collide as 'apparitions of delectation' in response to material and processual conditions.
The exhibition forms part of La Trobe Art Institute's Collaboratory series exploring collaboration in contemporary art practice.