The Huxleys (AU)
Gender Fluids
29 April 2022 - 29 July 2022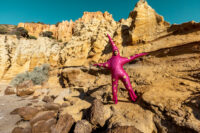 Image: The Huxleys, A Star is Born, 2022. Courtesy the artists. Commissioned by Photo Australia and the City of Melbourne.
When
29 April 2022 - 29 July 2022
Venue
Southbank Promenade, Southbank
24 hrs
Accessibility
Wheelchair access
Price
Free
As artists, The Huxleys are often drawn to nature for inspiration. Nature is full of colour, beauty and the bizarre. Nature is non-judgmental and full of possibility and rarity. The surreal shapes and colours of sea creatures are of particular interest to The Huxleys with their lurid colours and unusual bodies.
The Huxleys' work often plays with ideas of gender and body type and subvert those concepts into something magical and unique. They have created images and costumes in which they emulate gender fluid sea creatures, star fish and nudibranch are both considered gender-fluid. Nature is so advanced and has always adapted and created its own magical path.
"We worship these creatures. With the onset of global warming, we pray for the precious creatures of the reef to survive and thrive." – The Huxleys
Commissioned by Photo Australia and the City of Melbourne