Workshop: Glitch Photography
27 February 2021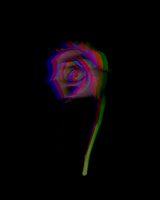 Image: Chris Bowes Split (Rose), 2019.
When
27 February 2021
Saturday, 1-3pm
(AEST)
Venue
263-269 Elizabeth St, Melbourne
Billboard: Viewable all hours
Store open during events
Accessibility
Wheelchair access
Please contact michaels for access requirements: T (03) 9672 2222
See your old photographs in a new light by learning how to glitch, manipulate and break digital images. During this short workshop we'll explore the material qualities of digital photographs, learning how to open and change image data in ways your computer never intended too. We'll cover colour separation, hex editing, over-compression and more, giving you plenty of tools to glitch your images with an infinite number of wild and wacky results. This event is suitable for all ages, and make sure to bring your computer, some images and a thirst for creativity.
Ticket: $69
Booking required.