1 March 2024 - 23 March 2024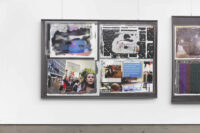 Image: Eliza Hutchison, MUMMUMMUMMUMMUMMUMMUM (1 of 4), 2021–22. Monash University Collection, Melbourne.
When radical action and critical thinking converge.
When
1 March 2024 - 23 March 2024
Venue
Monash University, Building D, Caulfield Campus
900 Dandenong Rd, Caulfield East
Wed – Fri, 10am – 5pm
Sat, 12 – 5pm
Accessibility
Wheelchair access
Price
Free
Stemming from a climate-aware curatorial choice by Dr Bronwyn Bailey-Charteris, the works in HELLLO I NEED A CAT are selected from the Monash University Collection featuring artists Michael Cook, George Egerton-Warburton, Eliza Hutchison, Tim Johnson and Raquel Ormella. As opposed to commissioning resource intensive new-works, this exhibition delves into the extensive collection to look anew at the university as a site for pedagogy, experimentation and protest.
A thread of protest runs through the selected artworks, highlighting the radical potential of higher education and the university as a place where critical thinking unfolds—Michael Cook creates photographic reimagings of Australia as an Indigenous majority state, and Eliza Hutchison's photo-collages depict climate protests in a glitchy post-digital age. Taking its enigmatic title from text embedded within Hutchison's artwork, HELLLO I NEED A CAT takes an expansive understanding of photography and shares aesthetic renderings of protest and artistic re-imaginings of society.
Curated by Dr Bronwyn Bailey-Charteris
Curators
Dr Bronwyn Bailey-Charteris

Dr Bronwyn Bailey-Charteris is an Australian and Swedish curator, writer and lecturer with expertise in the politics and poetics of eco-aesthetics. Based in Warrang/Sydney on Gadigal and Bidjigal land, she is a sessional academic of curatorial theory and practice at Stockholm University, the University of Sydney, and the University of New South Wales where she was also awarded her doctoral degree with distinction. Bronwyn maintains an independent curatorial practice, having curated multiple exhibitions in Stockholm, Sydney, Melbourne and Madrid, alongside published writing on art, water and ecology in France, Lithuania, Poland, Sweden, Italy, U.S.A and Australia. She is Project Curator and Steering Committee member for Climate Aware Creative Practices Network, a nation-wide alliance of creative arts educators, researchers and practitioners committed to meet the challenges posed to creative practice and pedagogy by climate change. Her first monograph is due for release with Routledge Environmental Humanities Series in 2024 and is titled The Hydrocene: Eco-Aesthetics in the Age of Water.