Christopher Day (AU)
Inimical Cave
10 February 2021 - 6 March 2021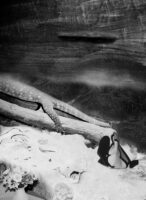 Image: Christopher Day, Untitled
, 2020. Courtesy the artist and LON Gallery.
In 2020, the realities of the world have become a pageant of messages condensed into screens, where media casts only a shadow of 'the truth'. Christopher Day's Inimical Cave observes the similarities between Plato's Cave concept and humanity's recent confinements in our own, homey, quarantine grottos.
Scenes of swamps, pizza, cultivated fields, dwellings, people, ducks, antique furniture, DVD players and curtained interiors act as humorous allegorical projections of the scenes of recent life, while attempting to illuminate how our perception of the world can become distorted by the vomitous creations layered by the media.