Launch: David Rothenberg – Roosevelt Station (PHOTO 2021 x Perimeter International Photobook Prize Winner)
28 February 2021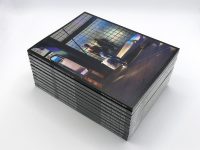 David Rothenberg – Roosevelt Station (Perimeter Editions 063, 2021)
When
28 February 2021
Sunday, 11:30am-12:15pm
(AEST)
Venue
404 George St, Fitzroy
Wed – Sun, 11am – 5pm
Accessibility
Wheelchair access
Roosevelt Station by David Rothenberg is the winner of the inaugural PHOTO 2021 x Perimeter International Photobook Prize. Selected by a jury comprising renowned publisher Michael Mack (MACK, London), PHOTO 2021 artistic director Elias Redstone, artist Emma Phillips, and Perimeter directors Justine Ellis and Dan Rule, the project was chosen from a pool of more than 130 submissions from around the world. To celebrate the launch of Roosevelt Station, please join us for a premiere of a recorded conversation between photographer David Rothenberg and writer and curator David Campany, who contributes an essay to the publication.
Free, bookings required.
Part of PHOTO 2021's Photobook Weekend
Speakers
David Campany (US)

David Campany is a curator, writer, and Managing Director of Programs at the International Center of Photography, New York. Renowned for his engaging and rigorous writing, exhibitions and public speaking, David has worked worldwide with institutions including MoMA New York, Tate, Whitechapel Gallery London, Centre Pompidou, Le Bal Paris, Stedelijk Museum, The Photographer's Gallery London, ParisPhoto, PhotoLondon, The National Portrait Gallery London, Aperture, Steidl, MIT Press, Thames & Hudson, MACK and Frieze. David's many books include On Photographs (2020), So Present, So Invisible – conversations on photography (2018), A Handful of Dust (2015), The Open Road: photography and the American road trip (2014), Walker Evans: the magazine work (2014), Gasoline (2013), Jeff Wall: Picture for Women (2010), Photography and Cinema (2008) and Art and Photography (2003). He has written over two hundred essays for monographs and museums.

David Rothenberg (US)

David Rothenberg is a photographer and educator living in Queens, New York. In 2020, his photographs were included in the exhibition, Collecting New York's Stories at the Museum of the City of New York. Rothenberg has produced two books with the publisher ROMAN NVMERALS including Landing Lights Park, which TIME named one of the best photography books of 2018. His photographs have been published and written about in The New York Times, Hyperallergic, Libération and featured on The New Yorker's Instagram account. Rothenberg's work is in the permanent collection of the Museum of the City of New York and numerous library special collections including the School of the Art Institute of Chicago, MoMA, and the Amon Carter Museum of American Art. Rothenberg received an MFA from Bard College and a BFA from Parsons School of Design.