Talk: Martine Gutierrez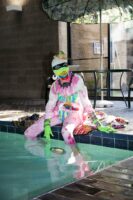 When
7 May 2022
Saturday, 10:30-11:30am
(AEST)
Venue
404 George St, Fitzroy
Wed – Sun, 11am – 5pm
Price
Free, bookings required
Join Martine Gutierrez in conversation with PHOTO 2022 Associate Curator Brendan McCleary via Zoom about her exhibition showing at the Centre for Contemporary Photography.
The work of American photographer and performance artist Martine Gutierrez subverts conventional ideals of beauty to reveal how deeply sexism, racism, transphobia and other biases are embedded in our culture. Internet Immigrant moves from the chaotic and bombastic to the anthropological, including a large-scale wallpaper designed specifically for the exhibition, and Neo-Indian studio portraits incorporating indigenous textiles of Gutierrez's Mayan heritage.
This talk is an in person event. A recording of the talk will be available on our website following the event.
Speakers
Martine Gutierrez (US)

Born 1989, Berkeley, U.S.
Lives and works New York, U.S.

Martine Gutierrez is an artist, performer, writer and musician who constructs elaborate narrative scenes to subvert pop cultural tropes in the exploration of identity, both personal and collective intersectional to race, gender, class, indigeneity and culture. Her amass of media—ranging from billboards and episodic films to music videos and renowned magazine, Indigenous Woman—produce the very conduits of advertising that sell the identities she disassembles. Gutierrez hybridizes the industry's objectification of sex with the individual's pursuit of self, satirically undermining the aesthetics of what we know. While she manufactures 'celebrity' to pass as multinational corporations, it is Gutierrez herself who executes every role—simultaneously acting as subject, artist and muse.

Brendan McCleary (AU)

Brendan McCleary is PHOTO 2022's Associate Curator, born and living on Wurundjeri country. He has worked as a Producer for MPavilion, stage managed events for White Night Melbourne, Dark Mofo, and Melbourne Music Week, and in 2017 worked for the Australia Pavilion at the Venice Biennale. In 2018-19, Brendan was the Program Director for the Monash MPavilion, commissioning artists and events on the Monash University Clayton campus. As an independent curator, Brendan has worked with a number of Australian and international artists including Zanele Muholi (South Africa), Allora & Calzadilla (USA/Cuba), and Carolee Schneemann (USA).