Omphalus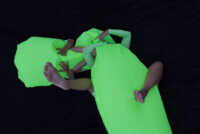 When
29 April 2022 - 26 June 2022
Venue
Peel St, Collingwood
Night-time projections
Theme
Accessibility
Wheelchair access
Price
Free
Taking cues from Barbara Creed and Julia Kristeva's writing on the Monstrous-Feminine, artists Honey Long, Prue Stent & Amrita Hepi have collaboratively come together again to create a new body of work Omphalus.
Omphalus referring to the navel or yonic, brings about images of chalices, cauldrons, caves and concavities—it employs the use of a single phallic inflatble and symmetry to distort the body in ways that is at times erotic, uncanny and consistently mutating.
In this video we see a collapsing of boundaries or ambiguities in relation to the depiction of the body. The monster or monstrously feminine in this case is what crosses or threatens to cross the 'border'.The border between human and non-human.
Presented by Yarra City Arts
Commissioned by NETS Victoria and supported by the Victorian Government through Creative Victoria