James J. Robinson (AU/PH)
On Golden Days
29 April 2022 - 22 May 2022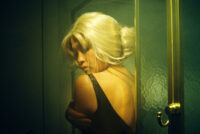 Image: James J. Robinson, On Golden Days, 2022. Courtesy the artist.
When
29 April 2022 - 22 May 2022
Venue
43 – 45 Edward St, Brunswick
Mon – Fri, 11am – 4pm
Sat – Sun, 11am – 3pm
Accessibility
Wheelchair access
Price
Free
On Golden Days is artist James J. Robinson's first solo-exhibition, deconstructing the architecture of nostalgia.
The past is portrayed systemically in our culture as a bygone era of innocence and purity. Through films, literature, and music, we tend to reflect idealistically on collective history as a way of anaesthetising contemporary anxiety.
However, this yearning for 'golden days' means we fetishise an era when prejudice against minorities was rampant, erasing the lived experiences of marginalised peoples.
Without the just retelling of history, who benefits?
Raising funds for Pay the Rent, On Golden Days takes the absurdity of glorifying the past and flips it on its head; calling on Robinson's queer, Filipino identity to rewrite history with a series of photographs and video works starring an extensive Asian cast.
Supported by the Australian Government through the Australia Council for the Arts