Opening reception: Sam Lieblich
30 April 2022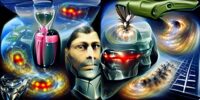 Image: Sam Lieblich, Intrusive Thoughts, 2022. Courtesy the artist.
When
30 April 2022
Saturday, 4-6pm
(AEST)
Venue
21 Easey St, Collingwood
Thu – Sat, 12pm – 5pm
Price
Free, no bookings required
Please join us for the opening of Sam Lieblich's ambitious new work PHRASER.
Residing in a darkened room, PHRASER consists of a meta-algorithm, a fusion of rules and connections trained by texts produced in workshops run by the artist. The work reshapes current events on the internet, spitting out a monologue of strange words and a fluttering of discordant images.