Nature and Photography: Animism and Ecology
10 May 2022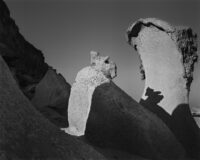 Image: Hoda Afshar, from the series Speak the Wind, 2015-2020. Courtesy of the artist and Milani Gallery, Brisbane
When
10 May 2022
Tuesday, 7-8pm
(AEST)
Venue
Fed Square
Flinders St, Melbourne
Mon – Fri, 12pm – 5pm
Sat – Sun, 10am – 5pm
Accessibility
Wheelchair access, Accessible Toilets, Auslan interpretor, Closed Captions
Price
Free, bookings required
Inspired by artists in the program who envisage us as part of nature, instead of seeing ourselves as separate from nature, we can reflect on what it means to be human. Through ecology, intergenerational spiritual knowledge, myth and technology we can envision a more sustainable and inclusive future.
With exhibiting artists Hoda Afshar and Misha Vallejo Prut, and guest author, and podcaster of Rune Soup, Gordon White. Chaired by Desiree Ibinarriaga, Lecturer, Collaborative Design, and Unit Coordinator of Indigenous Research Methods at Wominjeka Djeembana Lab, Monash University.
You can watch a recording of the event via our Channel here.
Free, bookings required

Auslan interpretation available at the time of booking. Please book 48 hours in advance
Speakers
Hoda Afshar (IR/AU)

Born 1982, Tehran, Iran
Lives and works Melbourne, Australia

Born in Tehran, Iran, visual artist and lecturer in photography and fine art Hoda Afshar lives and works in Melbourne. Exploring the possibilities of documentary image-making and representations of gender, marginality and displacement, Afshar pairs photography with the moving-image.

Exhibiting and publishing her work locally and internationally, Afshar's work is also included in many private and public collections. Her exhibitions include Remain, UQ Museum of Art in Brisbane, Beyond Place, Museum of Photographic Arts, San Diego CA, USA , Primavera 2018, Museum of Contemporary Art, Sydney, and Waqt al tagheer: Time of Change, ACE Open, Adelaide. In 2015, she received the National Photographic Portrait Prize, National Portrait Gallery, and in 2018 she won the Bowness Photography Prize, Monash Gallery of Art, Australia.

Hannah Brontë (AU)

Born 1991, Meanjin (Brisbane), Australia
Lives and works Gold Coast, Australia

Brontë is an Artist/Creatrix living and working on Yugambeh country . Brontë's body of works explores the feminine experience, young women's and mother's journeys and spiritual connections. Much of her work correlates the treatment of the earth to the treatment of our bodies. Her journey of self discovery and the tangled layers of walking this life drive her to create dreamscapes exploring what could be . Hannah embraces multiple mediums including video, textiles, and soundscapes, and combines these to create visually distinctive works with a kaleidoscopic lense.

Recently Brontë has included holistic, spiritual and physical healers as consultants for much of her work. Aiming to ground audiences through the experiences depicted in her pieces. Learning that in vulnerability lies strength. Brontë's work has begun unpacking intergenerational spiritual knowledge, which she feels is just the beginning of a new direction within her work. Her work deeply centres on exploring healing practices within art making and the expansion of communities through mark making. Much of this chapter is influenced by her trainee practice as a birthing Doula and Djing.

Desiree Ibinarriaga (MX)

Indigenous Mexican woman with Chamula (Mayan), Nahua (Aztec) and Euskaldunak (Basque) heritage. Desiree is a creative practitioner, collaborative and social design maker and thinker. She is Lecturer at Monash Art Design and Architecture, and Coordinator for Indigenous Higher Degrees by Research being part of Wominjeka Djeembana Research Lab.

Misha Vallejo Prut (EC)

Born 1985, Riobamba, Ecuador
Lives and works Quito, Ecuador

Misha is a visual artist and audio-visual storyteller whose work lies in the border between documentary and art. His main interests lie in the portrayal of the lost person and the lost place with a special emphasis on environmental and identity issues. His work has been exhibited in galleries and festivals around the world and has been published in such media like The New York Times, The Washington Post, VICE, GEO, Marie Claire and others. He has published three award winning photobooks and the interactive web documentary secretsarayaku.net. Currently he is working on his first feature documentary film Light Memories.

Gordon White (AU)

Shamanic practitioner, chaos magician, host of the podcast, Rune Soup. Gordon is the author of four books: Star.Ships: A Prehistory of the Spirits, The Chaos Protocols, Pieces of Eight and Ani.Mystic. He lives on a small permaculture farm in southern Tasmania.