Belonging: Human Connection and Care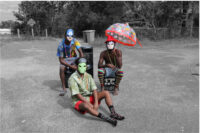 When
17 May 2022
Tuesday, 5:30-6:30pm
(AEST)
Venue
Fed Square
Flinders St, Melbourne
Mon – Fri, 12pm – 5pm
Sat – Sun, 10am – 5pm
Accessibility
Wheelchair access, Accessible Toilets, Auslan interpretor, Closed Captions
Price
Free, bookings required
Feeling that we belong and are part of a community is essential for our survival and flourishing. In this talk we hear from artists who centre community, chosen family and collaboration in their practice, highlighting the ongoing importance of connection and care in our relationships.
With exhibiting artists Eric Bridgeman (Yuriyal), Alana Holmberg and Anu Kumar. Chaired by Kelly Hussey-Smith, Lecturer, Photography, RMIT School of Art.
Gandel Digital Future Lab ACMI, Fed Square.
Free, bookings required

Auslan interpretation available at the time of booking. Please book 48 hours in advance
Speakers
Eric Bridgeman (Yuriyal) (PG/AU)

Born 1986, Redcliffe, Australia
Lives and works Brisbane, Australia & Eastern and Western Highlands, Papua New Guinea

Eric Bridgeman is a multidisciplinary artist. The dominant focus of his work involves the discussion of social and cultural issues. Recently he has been exploring issues of masculinity. Belonging to the Yuri tribe of South Simbu, Papua New Guinea, Yuriyal (meaning: Man of Yuri), produces portraits collaboratively with his fellow tribesmen and those closest to him, in traditional and domestic settings, to form personal tributes through intimate and meaningful exchanges within men's spaces, the artist's studio, the rugby field and the 'hausman', a tradition Papua New Guinean men's house.

Alana Holmberg (AU)

Alana Holmberg (b. 1983) is a photographer based in Melbourne. Her practice combines stills, motion, sound and text and her work is both conceptual and documentary. Raised in regional Victoria, Alana's work is sociological in nature and intentionally close to home. Interested in exploring contemporary issues within Australian society, her work draws on personal experiences, her family archives and observations within her community. Experimenting with performance, installation and online platforms, Alana is interested in presenting her work in non-traditional ways. She is a member of Oculi Collective and in 2019 she won Australia's National Photographic Portrait Prize. Alana is also a photojournalist, writer, communications consultant and producer. Most recently she produced ACTS I-VII by Oculi Collective at Benalla Art Gallery and was one of three collaborators for Unless You Will Journal #31.

Kelly Hussey-Smith (AU)

Kelly Hussey-Smith is an artist, researcher, and educator focused on photography as a social practice and community-oriented education. She is a photography lecturer in the RMIT School of Art where she co-leads the Social Practice and Art and Education themes in CAST research group.

Anu Kumar (AU)

Born 1990, New Delhi, India
Lives and works Naarm (Melbourne), Australia

Anu Kumar is a photographic artist living and working in Naarm.

Working primarily with medium format photography, Anu interrogates themes of displacement and the diaspora; using her practice as a gateway to understanding her identity as a woman born in India and raised in Australia. Through her work, Anu strives to archive the quotidian expressions of everyday life as an examination of self, family and belonging.

Her photography has been published in the New York Times and Vogue Italia and is soon to be Exhibited at the CCP (2022) along with an upcoming monograph with Perimeter Editions(2022).