PHOTO LIVE: Brook Andrew and Kate Golding in conversation with Professor Clare Wright OAM
22 February 2021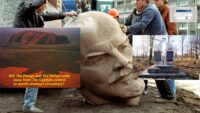 Image: Brook Andrew, SMASH IT, 2018, single channel video, 28 minutes. Edited by Giacomo Sanzani and Brook Andrew. This project was produced through a Smithsonian Artist Research Fellowship.
When
22 February 2021
Monday, 5:30-6:15pm
(AEST)
Venue
Level 7/34 Little Collins Street, Melbourne
(access via lifts on Mcilwraith Place)
Accessibility
Wheelchair access, Auslan interpretor
Wheelchair and general access to Level 7 is via lifts from ground floor off McIlwraith Place.
If you require an Auslan interpreter please make your booking 3 business days in advance.
Join artists Brook Andrew and Kate Golding in conversation with Professor Clare Wright OAM, for a timely and powerful discussion around Australia's contested colonial history. Brook is a Wiradjuri/Celtic artist, whose practice critically examines dominant narratives related to global histories of colonialism and modernity. Kate's work interrogates the memorialisation of Captain Cook, challenging the objective truths claimed by monuments erected in his name. Clare is an award-winning historian, author, broadcaster and public commentator. Clare is spearheading a campaign for statue equality, inspired by her research revealing that only 3% of statues in Australia are of real women. With a multitude of overlapping themes of research this lively discussion should not be missed.
Free, registrations required. This event has a limited live audience capacity and will also be live streamed.
Speakers
Brook Andrew (AU)

Born 1970, Sydney, Australia
Lives and works Melbourne, Australia

Brook Andrew is an artist, curator and writer based on the lands of the Wurrundjeri and Boon Wurrung peoples of the Kulin Nation. He is driven by the collisions of intertwined narratives, often emerging from the mess of the Colonial Wuba (hole). His practice is grounded in his perspective as a Wiradjuri and Celtic person with matrilineal kinship from the kalar midday (land of the three rivers) Australia. His artworks, research, leadership roles and curatorial projects challenge the limitations imposed by power structures, historical amnesia and complicity to centre and support Indigenous ways of being through systemic change and yindyamarra (respect, honour, go slow and responsibility). Apart from drawing inspiration from vernacular objects and the archives he travels internationally to work with artists, communities and various private and public museum and gallery collections.

Kate Golding (AU)

Melbourne-based settler Australian artist Kate Golding examines colonisation and representation of people and place through lens-based and alternative photographic processes. Awarded an ArtStart Grant from the Australia Council for the Arts, Golding was the winner of a Linden Postcard Prize, and a CCP Salon Best Work by a CCP Member Prize. Her work features in Melbourne Museum's permanent exhibition First Peoples, and her PHOTO 2021 commission was supported by a City of Melbourne Arts Grant. Her photobook, Within You Without You was published in 2015. Golding acknowledges the Wurundjeri people on whose land she lives and works. She offers respect to elders past, present and future, extending this respect to all Aboriginal and Torres Strait Islander people, acknowledging that sovereignty has never been ceded.

Professor Clare Wright OAM (AU)

Professor Clare Wright OAM is an award-winning historian, author, broadcaster and public commentator who has worked in politics, academia and the media. Clare is currently a Principal Research Fellow and ARC Future Fellow at La Trobe University. She is the author of four works of history, including the best-selling The Forgotten Rebels of Eureka (winner of the 2014 Stella Prize) and You Daughters of Freedom. Clare's essays, opeds and reviews have appeared in The Guardian, The Guardian Weekly, Meanjin, Griffith Review, Overland, The Conversation, The Age/SMH, The Australian and her academic articles have been published in leading international and national scholarly journals. Clare hosts the ABC Radio National history series, Shooting the Past, and co-hosts the La Trobe Uni podcast Archive Fever. She has appeared on Q&A, The Drum, The Project and Behind the News giving an historical perspective on current affairs. In 2020, Clare was awarded an Order of Australia Medal for "services to literature and to historical research".