19 May 2022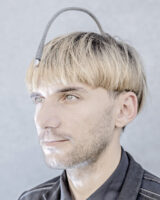 When
19 May 2022
Thursday, 5:30-6:30pm
(AEST)
Venue
Fed Square
Flinders St, Melbourne
Mon – Fri, 12pm – 5pm
Sat – Sun, 10am – 5pm
Accessibility
Wheelchair access, Accessible Toilets, Auslan interpretor, Closed Captions
Price
Free, bookings required
In the age of the internet, AI, and digital avatars, the boundary between human and machine, and our online and IRL selves is being blurred. What does this mean for our ongoing sense of self and how implicit is photography in this?
With exhibiting artists Ling Ang, Ying Ang, Matthieu Gafsou and Sam Lieblich. Chaired by Alison Bennett, Associate Dean (Photography), RMIT School of Art.
Gandel Digital Future Lab ACMI, Fed Square.
Free, bookings required

Auslan interpretation available at the time of booking. Please book 48 hours in advance
Speakers
Ying Ang & Ling Ang (AU)

Ying Ang

Born 1980, Singapore
Lives and works Melbourne, Australia

Ying Ang is a photographer and author with a focus on conceptual documentary work. Her book, Gold Coast, won the New York Photo Festival and Encontros Da Imagem book prize for 2014 and acquired for the Rare Books Collection at the Victorian State Library and MoMA.

Ying's most recent critically acclaimed publication, The Quickening, was acquired by the National Library of Australia and the Victoria and Albert Museum in London. The project was also exhibited in a solo show during Rencontres d'Arles in France at the Manuel Rivera-Ortiz Foundation.

Ying lectures at the International Center of Photography in New York.

Ling Ang

Born 1990, Singapore
Lives and works Melbourne, Australia

Ling Ang is a visual artist whose work is rooted in a documentary language that explores contemporary issues with a strong narrative format. In 2018, Ling was commissioned by the Commonwealth Games arts program to create a public installation titled "Gold Coast". Her documentary short film, "Palomo", screened at the 42nd Montreal World Film Festival, winning Best Director at the Madrid International Film Festival and Best Documentary Short Film at the London Independent Film Festival. Ling's project, "Souvenirs of Sleep", manifested in large scale, experiential installations in Melbourne, London and Cardiff in 2019 and 2020, and an accompanying artist book.

Alison Bennett (AU)

Alison Bennett's creative practice could be described as 'expanded photography', the spaces that are opening up as photography becomes diffused with ubiquitous computing. They sometimes describe themselves as a neuroqueer new media artist interested in the intersection of neurological queerness, specifically autism, and the affordances of mediation. Bennett's work has been shown at international venues such as Musée du Louvre and the San Francisco Museum of Modern Art, and featured on ABC TV Australian Story, the New York Times, Mashable, The Huffington Post, BuzzFeed, Motherboard, The Creators Project, ABC TV News, among many others. Alison is senior lecturer in photography at RMIT School of Art where they are the associate dean (photography).

Matthieu Gafsou (CH)

Born 1981, Aubonne, Switzerland
Lives and works Lausanne, Switzerland

Matthieu Gafsou (CH, F, 1981) lives and works in Lausanne, Switzerland. After completing a master of arts in philosophy, literature and cinema at the University of Lausanne, he studied photography at the School of Applied Arts in Vevey. Since 2006, Gafsou has participated in numerous group and solo exhibitions, and published five books. In 2009 Gafsou was awarded the prestigious "Prix de la fondation HSBC pour la photographie" and subsequently was invited to contribute to the Aperture Foundation's 2010 reGeneration2 exhibition. In 2014, Lausanne's influential Musée de l'Elysée hosted Gafsou's solo show titled Only God Can Judge Me. In 2018, the H+ exhibition was one of the highlights of Les Rencontres de la Photographie in Arles. In parallel to his artistic practice, Gafsou is on faculty at the University of Art and Design Lausanne (ECAL). He is also one of the founding members of MAPS agency.

Sam Lieblich (AU)

Born 1983, Perth, Australia
Lives and works Melbourne, Australia

Sam Lieblich is a Melbourne-based artist investigating networked and algorithmic forms. His work explores the orientation/disorientation of the subject in the other, and the manifestations of the human-algorithm hybrid into which human beings are now subsumed. These digital works combine machine learning algorithms with custom code to foreground systems design and—by finding beauty and intention in the system—to try to re-situate human desire in the algorithm.