Photography Festival as Urban Activation
19 May 2022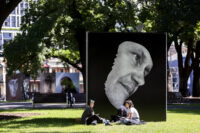 When
19 May 2022
Thursday, 7-8pm
(AEST)
Venue
Fed Square
Flinders St, Melbourne
Mon – Fri, 12pm – 5pm
Sat – Sun, 10am – 5pm
Accessibility
Wheelchair access, Accessible Toilets, Auslan interpretor, Closed Captions
Price
Free, bookings required
How are festivals around the world temporarily transforming the city in inspiring and meaningful ways?
With Varun Gupta, Chennai Photo Biennale, Yasmin Meinicke, Biennale für aktuelle Fotografie, Elias Redstone, PHOTO 2022, and Jon Uriarte, Getxophoto. Chaired by Mary Parker, Director, Communications & Creative, Cross Yarra Partnership.
Gandel Digital Future Lab ACMI, Fed Square.
Free, bookings required

Auslan interpretation available at the time of booking. Please book 48 hours in advance
Speakers
Varun Gupta

Varun Gupta is a commercial photographer,  serial-entrepreneur, digital ad-man and a lover of analogue photography who co-founded the Chennai Photo Biennale in 2015. His alma maters include Light & Life Academy, India and the College of Wooster, US. In 2006 he founded Travelling Lens – a company that conducted specialised photography workshops and holidays in remote areas of India from 2007 to 2015. In 2010, Varun began work with Art Chennai (a city-wide arts event)  to manage their photography exhibitions with a focus on public engagement through which they organised large exhibitions in train stations and beaches in Chennai. In 2015, he co-founded the Chennai Photo Biennale along with Helmut Schippert the Director of the Goethe Institut Chennai and has led the organisation as Biennale Director ever since. Photo Seva is one of his long-term portraiture projects where he travels to make portraits of local communities across India with a large-format camera and B&W film. Varun is based in Chennai, India.

Yasmin Meinicke (DE)

Yasmin Meinicke has been the managing director of the Biennale für aktuelle Fotografie since 2016. In this function, she rebranded the association from Fotofestival to Biennale für aktuelle Fotografie and has realized three editions to date. In cooperation with the University of Heidelberg she conceived the series of talks "Photography & Science in Dialogue" in 2020. She also realized a conference and exhibition on smartphone photography in collaboration with Thomas Schirmböck at ZEPHYR – Raum für Fotografie, Mannheim in 2019. Yasmin Meinicke studied art history and philosophy at the Freie Universität Berlin and worked at the Kolleg-Forschergruppe Bildakt und Verkörperung and the Exzellenzcluster Bild-Wissen- Gestaltung at the Humboldt Universität Berlin. She (co-)curated exhibitions for the Kleine Humboldt Galerie, Berlin, and the Heidelberger Kunstverein.

Elias Redstone (UK)

Elias Redstone is the founder and Artistic Director of PHOTO 2021 International Festival of Photography. With over 15 years experience within the arts sector, Elias has a track record of initiating and delivering innovative cultural programs in collaboration with leading institutions such as Barbican Art Gallery, MoMA and Storefront for Art and Architecture. He was Curator of the Polish Pavilion at the 2010 Venice Biennale and Senior Curator at the Architecture Foundation, London. He has edited publications for Prestel, Sternberg Press and Bedford Press, and served as Contributing Editor for Arena Homme Plus and GQ Style. His book Shooting Space: Architecture in Contemporary Photography is published by Phaidon.

Jon Uriarte (ES)

Born in Hondarribia, Spain, in 1980, he studied photography at the Institut d'Estudis Fotogràfics de Catalunya and the International Center of Photography of New York, he also holds a master in Projects and Artistic Theories by PhotoEspaña and the European University of Madrid. His work has been exhibited in collective and individual exhibitions at different galleries and centers such as La Casa Encendida in Madrid, Koldo Mitxelena in Donostia, Studio 304 of New York, HBC center in Berlin and Sala d'Art Jove in Barcelona. Founder of Widephoto, independent platform dedicated to curating activities about contemporary photography. He also conceptualized and coordinated DONE for three years, a project about reflection and visual creation promoted by Foto Colectania. He is currently living in London, where he works as digital curator of The Photographers' Gallery, and is the Festival curator at Getxophoto.