PHOTO LIVE: Jesse Boyd-Reid and Lauren Dunn
22 February 2021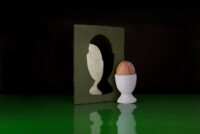 Image: Lauren Dunn, Shopping for eggs, 2020.
When
22 February 2021
Monday, 6:30-7:15pm
(AEST)
Venue
Level 7/34 Little Collins Street, Melbourne
(access via lifts on Mcilwraith Place)
Accessibility
Wheelchair access, Auslan interpretor
Wheelchair and general access to Level 7 is via lifts from ground floor off McIlwraith Place.
If you require an Auslan interpreter please make your booking 3 business days in advance.
Recent VCA graduates Lauren Dunn and Jesse Boyd-Reid are joined in conversation with PHOTO Artistic Director, Elias Redstone. This discussion will explore their socially engaged approaches to art making, and consider how place and identity inform the artists distinctly different practices. Centred around broader political and social issues, these visually disparate practices have threads of commonality.
Free, registrations required. This event has a limited live audience capacity and will also be live streamed.
The live stream will be broadcast on our homepage and Facebook Live (no need to book).
Speakers
Jesse Boyd-Reid (AU)

Jesse Boyd‐Reid is a Melbourne based contemporary artist working primarily with photography. Growing up in northern New South Wales, Jesse completed his Undergraduate and Honours degree in Fine Arts at the Victorian College of the Arts, Melbourne. In 2018 Jesse was awarded the Lionel Gell Scholarship for Artistic Excellence and was accepted into the Arctic Trust's residency program in Svalbard, Norway. Recently, Jesse's work has been included in exhibitions at AIRspace Projects, Sydney, and at Monash Gallery of Art. In February 2020 Broken Hill Regional Art Gallery, NSW, presented Jesse's first solo show, Adrift.

Lauren Dunn (AU)

While predominantly working with photography Lauren also occupies the idea of photographic thinking through other materials such as sculpture and video as a means of twisting the codes and conventions of mainstream photography. As an active participant in post-photographic discourse Lauren believes the many images we encounter on a daily basis are a critical indicator of broader political and social issues. With an inherent interest in popular consumption trends and their associated images, Lauren utilises her practise to understand and question the power structures influencing our consumer desires, ethics and the broader impact of commodity culture. Lauren graduated from the Victorian College of the Arts (VCA) with a BA in Fine Art (honours) in 2018. Lauren has participated in a number of group and solo exhibitions in Melbourne, Sydney and the USA. Selected exhibitions include: Greener pastures, Kyneton Stockroom; The Green Sheen, BUS projects, Still Life Pt II, Verge Gallery Sydney, Fruit & Veg & Parodies, LON Gallery, Heavy Duty, CalArts (USA). Lauren participated in Spring 1883 (Sydney 2017, 2018 & 2019) with LON Gallery and was a finalist in the 2017 Bowness Prize and the 2019 Darebin Art Prize. She has been the recipient of a number of prizes including the Myer Family Foundation Prize, Abbotsford Convent start up studio residency award and the David Fell Photography Award. Her work is held in private and public collections in Australia and internationally. Lauren is the founder of new Melbourne based artist collective imagecollective.com.au.

Elias Redstone (UK)

Elias Redstone is the founder and Artistic Director of PHOTO 2021 International Festival of Photography. With over 15 years experience within the arts sector, Elias has a track record of initiating and delivering innovative cultural programs in collaboration with leading institutions such as Barbican Art Gallery, MoMA and Storefront for Art and Architecture. He was Curator of the Polish Pavilion at the 2010 Venice Biennale and Senior Curator at the Architecture Foundation, London. He has edited publications for Prestel, Sternberg Press and Bedford Press, and served as Contributing Editor for Arena Homme Plus and GQ Style. His book Shooting Space: Architecture in Contemporary Photography is published by Phaidon.